My prom was a week ago, so this post is long overdue. But better late than never. Skip down if you'd rather not bore yourself with details, both sentimental and unnecessary.
Another classmate said this fairly well; when we were younger, did we ever believe that we would be old enough for prom? And yet, here we were. When I was young, prom was this magical place where the "older kids" had the "best night of their lives." By this age I knew from experience that high school and everything that happens in it isn't all it's cracked up to be.
Leading up to The Day, I was in some sort of agonized state of supertension from all the things I had to do and all the things I had left undone. Prom dress? Na. ACT test on the morning of prom? Unstudied. Prom hair? No idea w-d-f I was going to do (the plan was a messy bun made by piling my hair into my fist and pulling a hair tie over it. A style I reserve especially for stressful Calc tests and in-class essays. How special.) Nails? Grubby and short. Make up? No idea.
THE day: ACT test, got face waxed and polished after an agonizingly long wait for the Indian ladies, frustrating trip to Walmart for makeup supplies and indecisive decision for my nails that ended in my father driving away, came back home with FORTY-FIVE minutes until everyone else was supposed to arrive, unshaven, unshowered, smelly, and just gross in general. I somehow managed to pull myself together, thanks to my mom who insisted on wrenching out my hair and morphing my incoherent tangled mass into something quite nice while I hastily scraped on my makeup, and while the girls began arriving fully decked out in their long dresses and perfectly applied makeup and hair I was still in my sweats and t shirt...
But...it's nice to say that my prom night took me completely be surprise. I never imagined that I would have had so much fun, such amazing memories. Just seeing everyone in my house gave me this sort of candyland of happy energy that kept me bouncing off the walls. Everything just fell together. The pictures. The free Hummer limo. My outfit (which didn't turn out as catastrophic as I had been worrying). My corsage, which was beautiful and perfect, so perfect, thanks to a best friend's sister who constructed it after my request for orchids and feathers. The beautiful set up at prom. Dancing. Bowling. Everything.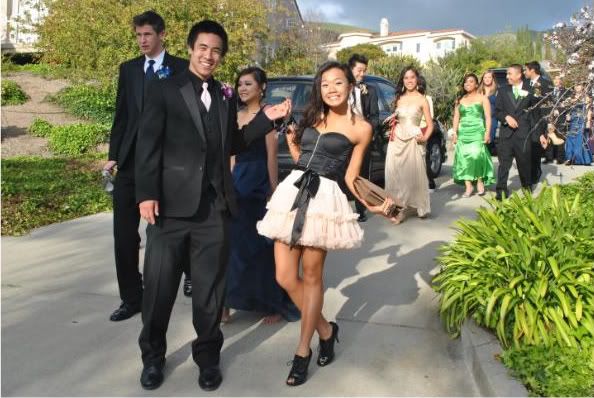 "Dress"=Skirt+Bustier
Skirt- American Apparel
Bustier- Charlotte Russe
Bow- taken from old dress
Shoes- Steven by Steve Madden ($9. Score.)
Clutch- Mother's Closet
Earrings- Charlotte Russe
Rings- Metropark, thrifted, Charlotte Russe
Lace biker shorts (which you can't see. good.)- F21
Trench- Michael Kors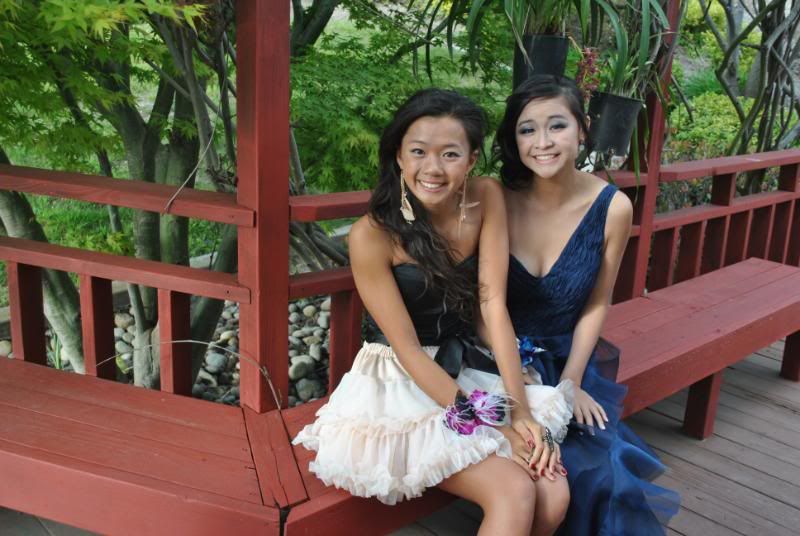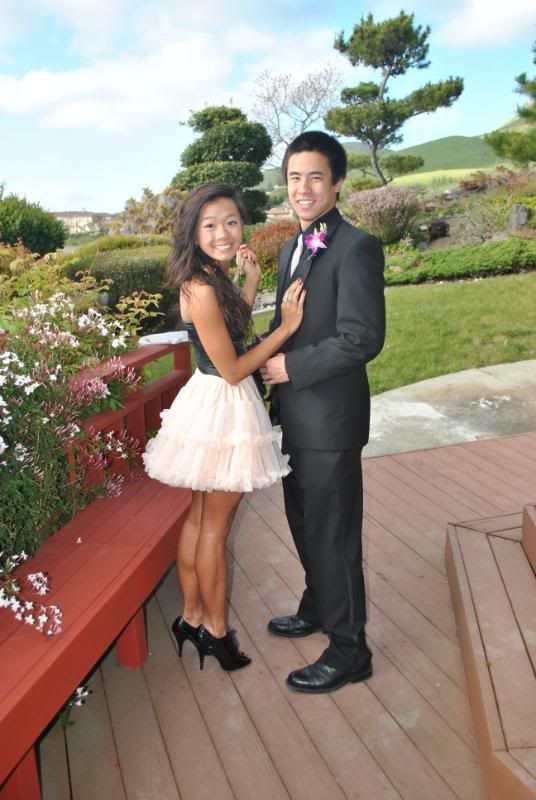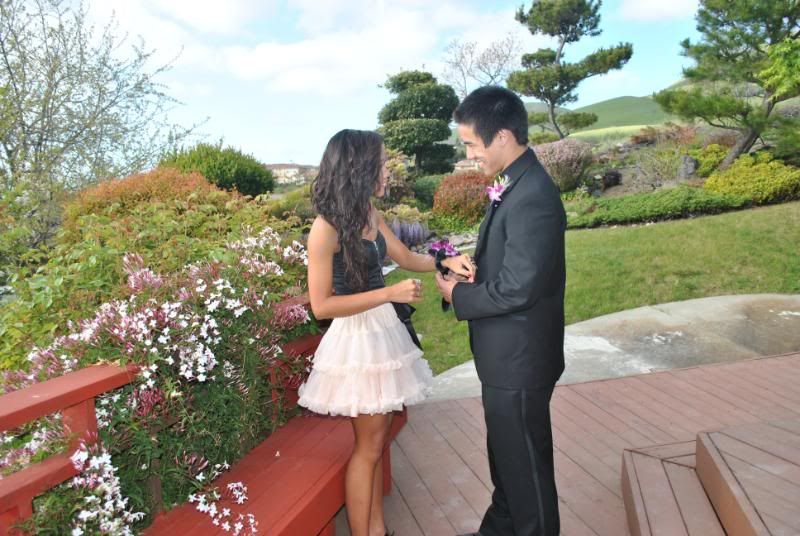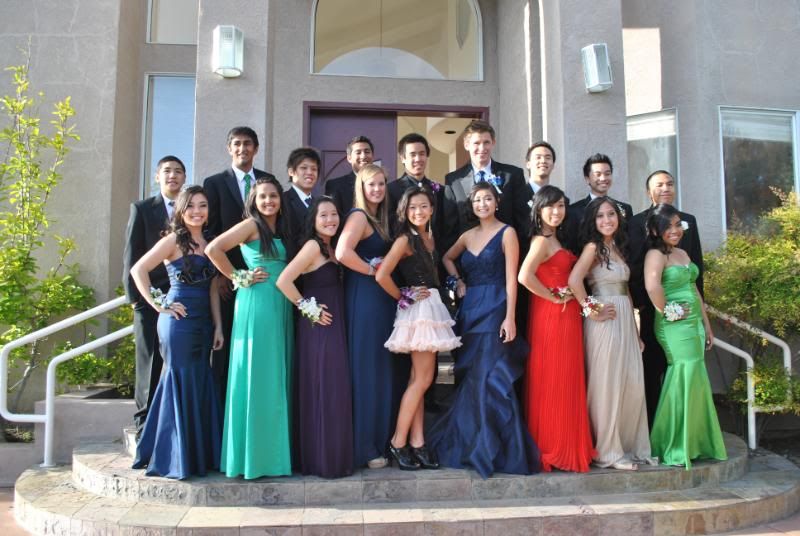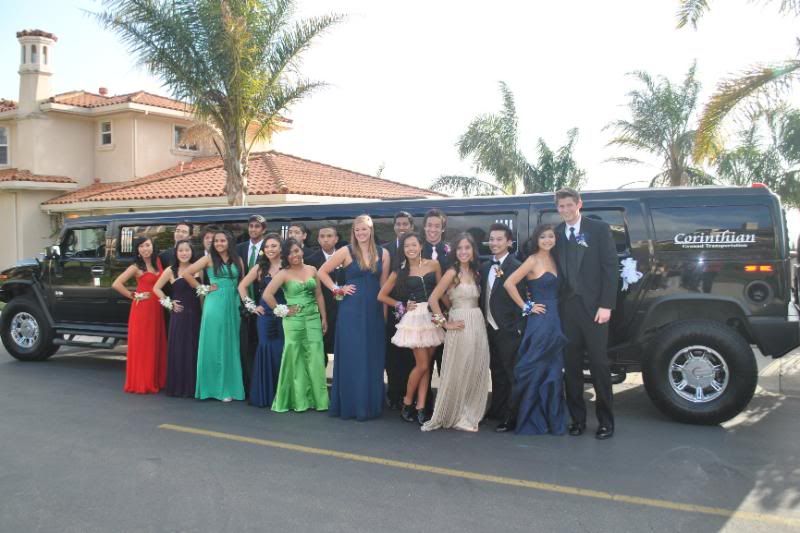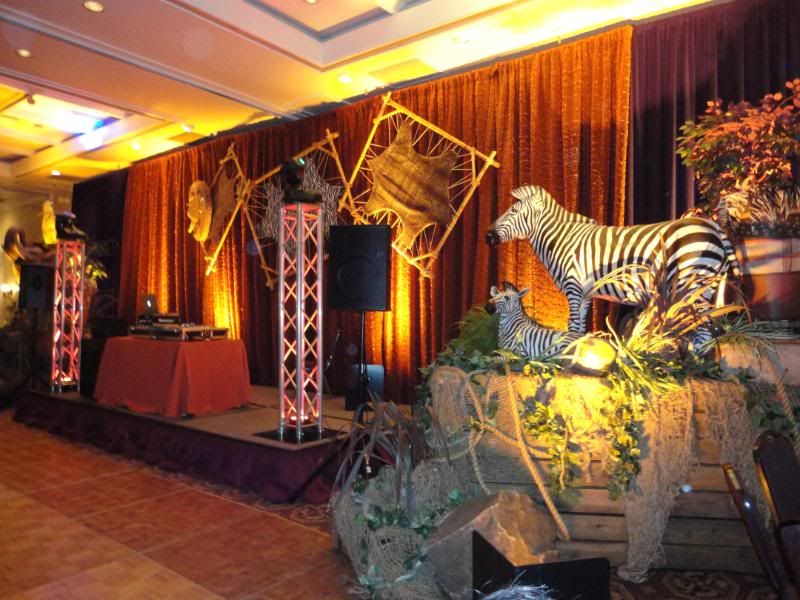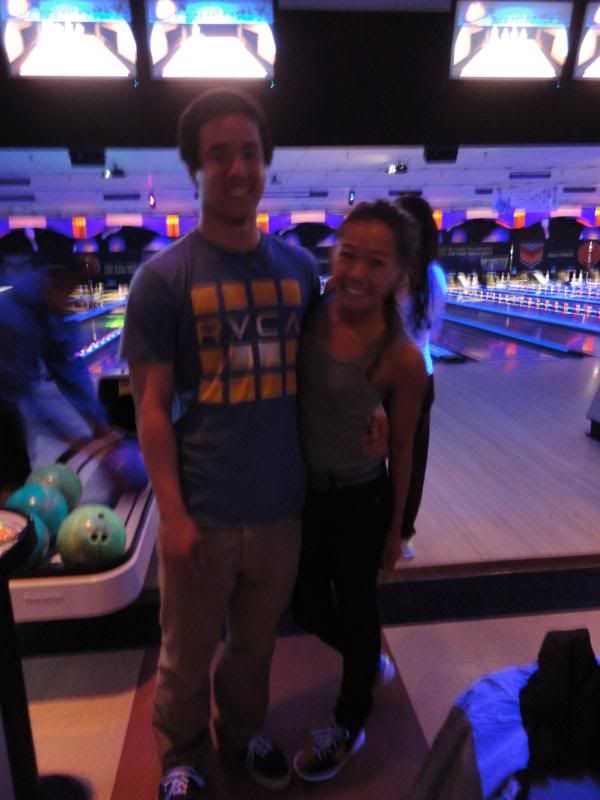 (Right) Annd this is one of my favorite candids. I believe the boyfriend was asking why I kept grabbing his finger so hard. It was out of sheer excitement. And maybe a bit because the only way I know how to get down our ridiculously steep driveway with heels is to wobble and trip the whole way.