This probably isn't the most ideal time to start blogging again, when I have a reaction paper and two tests tomorrow, the ACT on Saturday, and prom. It's only Wednesday, but I'm drained of all my brain fluids and good moods from no sleep Sunday night, and the succeeding useless late bed times. I also need a new alarm clock because I've deemed my cell alarm useless. For some reason, no matter what ringtone I use at any obnoxious volume, my ears have developed some kind of selective barrier that completely tunes it out... yet when my dad gives the lightest of all knocks on my door, I'm bouncing up from my bed and realizing for the umpteenth time that I've overslept for an entire half hour. What I'd really love is one of those radio/CD/mp3 alarm clocks at hotels.
On a better note, I had to make a "fashion" collage [eye roll, I know] for a recent application to a department store, which has made me realize that outfit shots take all of about five minutes out of my day. I need. to stop. being. lazy.
Update: The post above was written about a week ago, saved, then picked up again today. So much for not being lazy.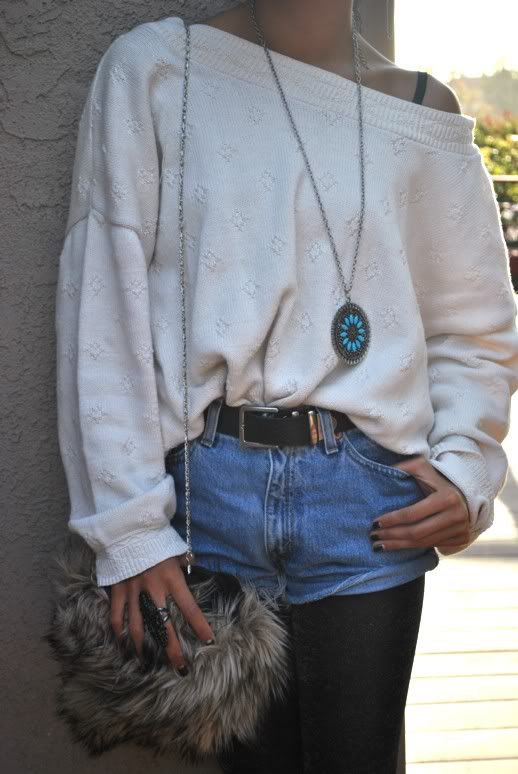 Sweater+ear chain: Thrifted
Levis: DIY'd; from the depths of the Mother's Closet
Belt: also from MC
Socks: Father's Closet
Shoes: UO ($5 Black Friday luck)
Pet Ferret of a Bag (or something) : DIY'd from an old unwanted jacket hood lining+small bag
Necklace: F21
Ring: Metro ($3, Black Friday luck again)
Bra strap: Classy...sike.
Squinty eyes: Sun in my face
Amazeballs iridescent shimmery leggings (UGH LOVE LOVE LOVE): UO
One of those outfits where I just pile all the things I love on top of each other. Sigh. I (honestly) can say I don't visit malls or shopping plazas much unless necessity demands it (e.g. a week before prom and being w/o a dress, or when all my jeans have suddenly outgrown me like those weight loss Subway ads). But when I do I almost never regret it because luck always finds me somehow with an amazing item at an unreal price I can actually afford...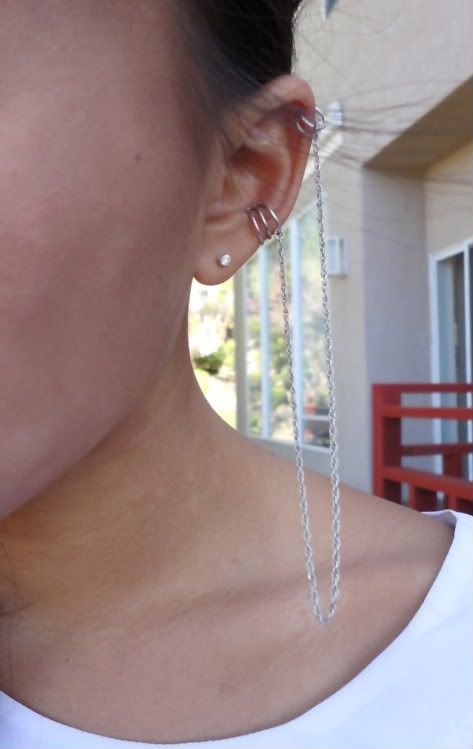 One of my favorite things. I scored this ear chain in a secondhand shop. Excuse the discolored grotesque dalmatian-like skin; that's what happens when you spend too many hours in a chlorine infested pool with annoyingly sensitive skin.